What Does Financial Well-Being Mean?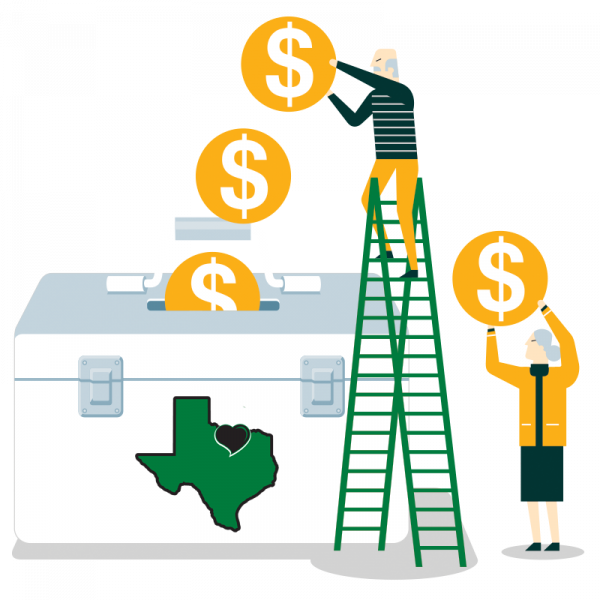 Financial well-being is an aspect of employee wellness that is often overlooked. But it's essential that you feel healthy financially, just as you should feel healthy physically and emotionally.
It can include:
Minimal feelings of financial stress
A strong financial foundation (little or no debt, emergency savings and living below your means)
A plan to follow to achieve future financial goals
Financial well-being can mean being worried less, which means less stress and more energy in your life. Less stress can mean fewer illnesses, increased productivity, higher feelings of satisfaction and self-worth, and feeling more engaged in your work and life.
Makes cents, er, sense, right?
Financial well-being, physical and mental well-being all work hand-in-hand. Achieving balance in all three can mean a more rewarding, healthier and happier life.
Focusing on healthy financial habits and behaviors leads to better decision-making, and the results can yield true rewards in your life. Invest in yourself by enjoying the benefits offered in our well-being financial health resources.

Being fiscally fit means having peace of mind that you are in charge of your finances. It means that you can enjoy life without the additional stress of money because you have a plan and are managing the situation (instead of it managing you).
Did you know that you can save money towards retirement monthly (pre-tax or after-tax) via your paycheck?
Saving as little as $25.00 a month now could make a big difference in your (retirement) future.
Voluntary savings plans are an employee benefit you can take advantage of to "bridge the retirement income gap":
UNTS Voluntary 403(b) Retirement Savings Plan Available:
The UNT System offers University of North Texas, University of North Texas Health Science Center, University of North Texas at Dallas and University of North Texas System Administration employees the opportunity to save for retirement by participating in the UNTS Voluntary 403(b) Plan.
You can participate in this plan by making pre-tax contributions. You are eligible to participate in this plan, whether or not you are actively contributing to it.
Not yet contributing to the 403(b) Plan?
To start your contributions to the 403b plan,register online. Once registered, log in to your UNTS Voluntary 403(b) Plan.
Choose your Plan Vendor(s).
Once you have logged on to your account, you can choose which vendor(s) to direct your TSA contributions. You must also make investment elections with your chosen vendor(s).
Already contributing to the 403(b) Plan?
If you are currently contributing to the 403(b) Plan, you may be able to increase your pre-tax contributions. You may also decrease or stop contributions by logging in to your account. When logged in to your plan via www.netbenefits.com/unts:
Click on "View Summary" next to your balance
In the "Contributions" box, click "Show More" and then "Change Contributions"
Click "Contributions Amount"
Update to the desired amount (this is a monthly amount)
Click "Change"
403b TSA and ORP Vendor Contact Information: