ODE is transitioning all face-to-face leadership cohort programs to blended learning consisting of both Live Sessions via Zoom and On-Demand sessions (pre-recorded webinars). While we do not believe this approach replaces the advantages of face-to-face interaction, discussion, and networking, we believe it is an effective approach to continue developing our employees during COVID-19. Continued professional development is still a priority for all employees. Therefore, we will offer blended virtual learning opportunities through May 2021. 
Administrative Professional Conference (APC)
For more information, email

ode@untsystem.edu


*More information to come February 2021!
Foundational Leadership Academy (FLA) Cohort 1
Thirty-five applicants were selected from a pool of 124 UNT World applicants. We will host a FLA cohort 2 in Fall 2021. Here is the FLA cohort 1 participant list: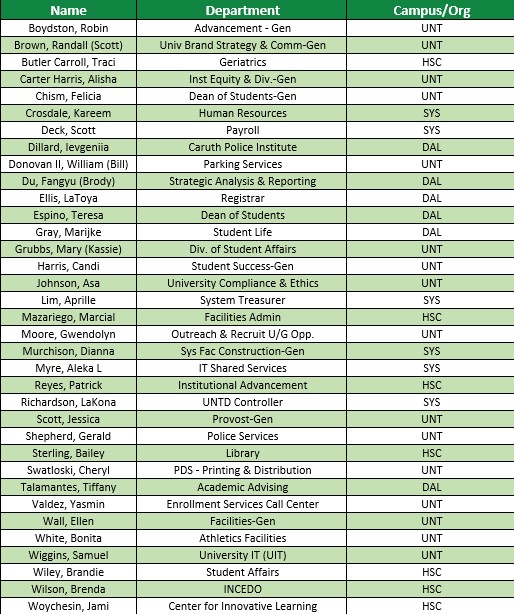 New Supervisor Orientation
We are currently accepting applications for NSO for each campus. The program is for supervisors within their first year of supervising within UNT World and is designed to help supervisors excel in their roles. Qualified supervisors should receive an email from Organizational Development & Engagement (ODE) about the program. If you did not receive an email about the program and are interested, please contact us at ode@untsystem.edu.