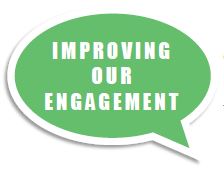 Engagement begins with the story of each individual team member. Each story is part of a larger narrative for our teams, departments and institutions. It's what we do with our story that matters!
We use our Engagement Survey to capture a snapshot in time of engagement across our world. The survey results provide valuable insight and clues into each team's engagement story. 
Remember, the survey is the first step in the process. The best and quickest way to your team's complete story is by discussing the results together. This will help you begin to build an action plan to develop the best, most productive and satisfying workplace for all.
Hear from our leaders across UNT World on how they have used the results from the Gallup Engagement to help their teams.
                                                                         Steve Maruszewski
                                                                         Carla Dixson Pt.1
                                                                         Carla Dixson Pt.2
                                                                         Dr. Jennifer Baggerly
 
Follow the 5 steps below to create an Engagement Action Plan:
Engagement Action Planning Checklist
Click here to view the full

Engagement Action Planning Checklist

. 

Additional guidance for each step can be found by clicking on that step's title.