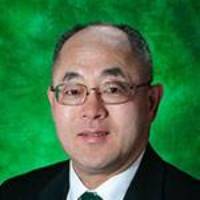 April is Celebrate Diversity Month and HR Highlights is celebrating by presenting a UNT World faculty or staff member who works to promote diversity, equity and inclusion in their professional and personal lives. Follow UNT System (@untsystem) on Twitter and Facebook for #CelebrateDiversity profiles, events, movie and book lists, recipes and more throughout the month. Our final Celebrate Diversity profile is... 
Hanchen Huang, Ph.D., Dean of the UNT College of Engineering
Dr. Huang is one of the brilliant minds at the University of North Texas, in this country or any country. That was evident from a young age when he graduated with a Physics degree at the age of 19 from Hebei Normal University in Shijiazhuang, China. He holds a master's degree in Theoretical Nuclear Physics from the Chinese Academy of Sciences, Institute of Atomic Energy at Beijing, and earned his Ph.D. in Nuclear Engineering at UCLA. A
co-founder of MesoGlue, Dr. Huang has conducted research in a vast range of disciplines and owns a list of honors, awards and research grants long enough to stretch from Denton to, well, Beijing. The Dean of the College of Engineering since 2019, Dr. Huang describes what diversity means to him, his own experiences as an Asian American and why he feels a responsibility to speak out.
What does diversity mean to you?
Diversity has many facets, with two facets particularly worth mentioning. One, it is important to be aware of diversity of identities and views. Two, beyond awareness, it is important to maximize synergies and accommodate differences of diversity.
Is there a particular personal story that you share that speaks to the intolerance or acceptance of our society toward people who fit into a diversity or minority category?
We as Americans have come a long way in tolerance and acceptance. However, intolerance and unacceptance still exist. On numerous occasions, I've been asked, "Where are you from?" When my answer was Boston or New York, the follow-up question often was, "Where are you originally from?" and sometimes with an uncomfortable smile. Hopefully, one day Asian Americans will no longer be necessarily seen as foreign.
 
As someone in a leadership position who has broken barriers on multiple levels, is there a responsibility you feel you have to speak out on issues of diversity?
Yes, I do feel the responsibility to not only speak out, but also to act. As an example within our college, we have sought to increase the representation of females and other underrepresented minorities within the faculty. As the Dean, I have created the College Diversity Awareness Committee and have promoted many of our underrepresented faculty and staff into leadership roles. As a faculty member, I have also mentored underrepresented minorities and enjoyed witnessing their growth over the years. 
 
How far has the United States come in regard to diversity, and how far do we still have to go before all people are treated equally regardless of race, sex, religion, sexual or gender identity, etc.?
The United States has come very far, and yet has a long way to go. Back in 1882, the Chinese Exclusion Act was enforced by the might of the U.S. government to restrict Chinese immigration into the U.S. Now, in 2021, the COVID-19 Hate Crimes Act has been created and is supported by the U.S. Senate to combat Asian hate. As a nation, that is progress, at least in regard to the law. As a people, we still need to move from inequality by heart to equality by heart. Of course, we still have so much to do as we move forward, but I am fully committed to doing my part as an academic leader in speeding up the progress, furthering the goal of equality, and increasing representation across all underrepresented minorities in higher education.