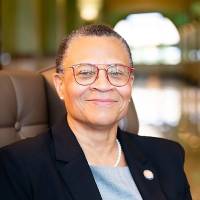 Dean Felecia Epps
April is Celebrate Diversity Month and HR Highlights is celebrating by presenting a UNT World faculty or staff member who works to promote diversity, equity and inclusion in their professional and personal lives. Follow UNT System (@untsystem) on Twitter and Facebook for #CelebrateDiversity profiles, events, movie and book lists, recipes and more throughout the month. Our latest Celebrate Diversity profile is... 
Felecia Epps, Dean and Professor of Law, UNT Dallas College of Law
Dean Epps has spent her entire life breaking barriers. After earning a bachelor's degree in 1980, she was commissioned a Second Lieutenant in the U.S. Marine Corps and went on to attend The Basic School in Quantico, Va., followed by the Naval Justice School in Newport, R.I., where she graduated with honors and was certified as a Judge Advocate in the U.S. Navy. During 10 years on active duty, she served as Defense Counsel, Trial Counsel, Chief Military Justice Officer, Chief Civil Law Officer and Chief Legal Assistance Officer. She was
awarded the Naval Achievement Medal and the Navy Commendation Medal while on active duty. Before joining UNT Dallas College of Law, she served as Professor of Law at the University of Arkansas at Little Rock Bowen School of Law and at  Florida A&M University College of Law as Dean and Professor of Law. Read in her own words what diversity means to her and her own experiences with prejudice and progress as an African American and a woman. Read in her own words what diversity means to her and her own experiences with prejudice and progress as an African American and a woman.
What does diversity mean to you?
Diversity means including all people in the conversation and valuing their contributions. It is about more than having a certain number of a specific group present; it is about having all involved fully in the process.
Is there a particular personal story that you share that speaks to the intolerance or acceptance of our society toward people who fit into a diversity or minority category?
When I was in college, the black student group known as Students for Black People (SFBP) planted an evergreen tree to commemorate the 10th anniversary of Dr. King's assassination. The evening after the tree was planted in a special ceremony, someone unknown to this day, vandalized the tree and the sign bearing Dr. King's name that had been installed in front of the tree. We learned that unfortunately this was based on racism. Fortunately, there was support within the college community for black students and a recognition of the pivotal role Dr. King played in our country's history. We repaired the damage and held a vigil for the weekend around the tree. Someone sat silently next to the tree for 48 hours. The vigil ended with a rededication ceremony.
I graduated from Office Candidate School the summer of 1978. The woman candidate with the best all-around performance was selected to be part of the honor guard. The guard is responsible for carrying the flags. This woman would have proudly marched with the honor guard in our graduation parade. Right before the parade, it was decided that a woman could not be in the honor guard! The woman candidate who had been selected to participate was notified at the last minute that she would not be part of the guard because of her gender. Fortunately, this practice has changed.
As someone in a leadership position who has broken barriers on multiple levels, is there a level of responsibility you feel you have to speak out on issues of diversity?
I don't believe in speaking out as much as I believe in trying to be an excellent example for those around me – whether they are students, faculty, staff or other. I also believe in mentoring and helping others to achieve their dreams. That is why I am an educator. Too much focus on barriers can be detrimental to moving forward. There are times, of course, when words are necessary, such as the recent issues surrounding police violence against people of color. The trial of the officer accused of murdering George Floyd is an instance where we should all speak out.
How far has the United States come in regard to diversity, and how far do we still have to go before all people are treated equally regardless of race, sex, religion, sexual or gender identity, etc.?
We have come a long way – there are no segregated facilities – but there is still a long way to go. Inequities still exist in education, employment, income, housing, health care and many other areas. Until equity comes in all of these areas there is still much to do.